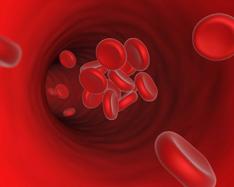 Patients with MPNs such as polycythemia vera (PV), essential thrombocythemia (ET) and myelofibrosis (MF) are at increased risk for developing abnormal blood clots. MPN patients have an increased risk for both venous thrombosis (such as deep vein thrombosis, DVT, and pulmonary embolism or abdominal vein thrombosis) and arterial thrombosis (such as stroke or heart attack). The risk for thrombosis is not the same for all patients and is likely due to more than one factor. The factors linked to the excess risk of thrombosis in MPNs have not all been precisely identified. In PV, excess red blood cells can increase blood thickness (viscosity) and this can predispose people to blood clots. Increased "stickiness" due abnormal function of platelets and abnormalities of white blood cells or the blood vessel wall itself may also contribute to the risk of abnormal blood clots in patients with MPNs. 
Treatment Overview
To Reduce Risk of Blood Clots: The risk of clotting can be minimized with optimal treatment for the underlying MPN. It is known that taking aspirin can help reduce the risk of abnormal clots in many patients with MPNs. Aspirin works by making platelets less sticky. It is recommended that all patients with MPNs take low-dose aspirin to help prevent clots unless there is a medical reason to avoid aspirin. For patients with polycythemia vera, it is important to control the proportion of blood occupied by the excess red blood cells (the hematocrit). In PV, this excess risk can be minimized by maintaining the hematocrit below 45% for men and 42% for women. Efforts to normalize other blood cell counts, particularly platelets, is also often done to reduce risk of thrombosis, but the decision to do so depends upon the overall risk of thrombosis for each individual. 
To Treat Blood Clots: Blood clots in arteries are medical emergencies that, when possible, are treated by trying to remove or dissolve the clot blocking the artery in order to restore blood flow as quickly as possible. Blood clots in large veins are treated with medications that interfere with normal blood clotting, commonly referred to as blood thinners or "anticoagulants." These medications help existing clots to resolve and reduce the risk of new clots. There are many "blood thinning" medications used, some are pills, while others are injected in a vein or under the skin. Because they interfere with the normal blood clotting mechanisms, these medications can also sometimes increase the risk of bleeding. Not all blood clots or patients require blood thinners. Most patients with MPNs do not require treatment with blood thinners.