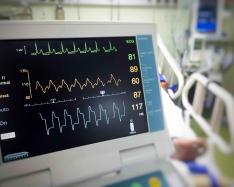 Patients with myeloproliferative neoplasms can experience cardiovascular complications that are thought to be at least partially linked to the MPN. Serious or bothersome symptoms should always be reported to your medical team. The most well recognized cardiovascular complications are due to the risk of abnormal blood clots causing heart attack, stroke, or pulmonary embolism. These medical emergencies must be treated right away in the hospital.
Some cardiovascular complications of MPNs are less well recognized and more chronic. The risk for pulmonary hypertension appears to be higher in patients with MPNs. Pulmonary hypertension is defined as having high blood pressure in the arteries that travel from your heart to your lungs. If severe, patients may experience symptoms (e.g., fatigue, shortness of breath, etc…). Over time, pulmonary hypertension can weaken the heart muscles, leading to heart failure. The medical cause for pulmonary hypertension and heart failure in patients with MPNs has not been fully identified. Research in this field is ongoing at Weill Cornell Medicine.
Treatment Overview
Patients with a suspected diagnosis of pulmonary hypertension should be referred to a cardiologist and/or a pulmonologist. Vasodilators such as Sildenafil (Viagra, Revatio) or Tadalafil (Cialis, Adcirca) or diuretics such as furosemide (Lasix) or Spironolactone (Aldactone) have been found to be effective in treating pulmonary hypertension for some patients. It is not yet known whether treatment of the MPN affects pulmonary hypertension.
Related Faculty


Robert Jeffrey Kaner, M.D.
Jiwon Kim, M.D.
I am an Assistant Professor of Medicine (Cardiology) at Weill Cornell Medicine with an academic focus on translational cardiovascular imaging research.  I trained at Beth Israel Deaconess Medical Center for Internal Medicine and Brown University for Cardiovascular Disease Fellowship. This training was followed by dedicated Advanced Cardiovascular Imaging Fellowship at Memorial Sloan Kettering Cancer Center. My research has focused on studying right heart physiology and remodeling using emerging echocardiography and MRI imaging techniques to improve risk stratification and treatment of patients with heart failure. I have a particular interest in cardiac sequelae of myeloproliferative neoplasms with attention to its impact on the right heart and right heart pressures. 
Clinical Profile (POPS)

Lindsay Lief, M.D.
Lindsay Lief, MD is an Assistant Professor of Medicine in the Division of Pulmonary and Critical Care Medicine and the Associate Director of the Medical Intensive Care Unit at NewYork-Presbyterian/Weill Cornell Medical Center. Dr. Lief attended medical school at Temple University School of Medicine and completed her residency and fellowship at NewYork-Presbyterian (NYP) and Weill Cornell Medicine. After fellowship training, Dr. Lief was honored to serve as the Chief Medical Resident at NYP/Weill Cornell.
Dr. Lief devotes her clinical time to caring for critically ill patients and their families, both during their ICU stays and after discharge from the hospital. She has expertise in treating all types of critical illness including respiratory failure, septic shock and bleeding complications, particularly in patients with underlying myeloproliferative disorders and with a history of stem cell transplant. Her research interests are in identifying and treating unrecognized symptoms in critically ill patients; and in improving outcomes for both ICU patients and their families, as well as the staff providing their care.
Clinical Profile (POPS)



Jonathan W. Weinsaft, M.D.

Jonathan W. Weinsaft, M.D.