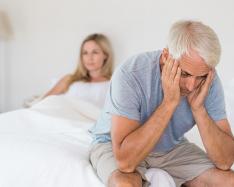 Sexual dysfunction is difficulty experienced during any stage of normal sexual activity. Sexuality-related symptoms are thought to be increased in patients with MPNs yet little is known of the cause or treatment of these problems in patients with MPNs. Investigations are underway at Weill Cornell Medicine in an effort to learn more about the medical causes for sexual dysfunction in patients with MPNs. 
The below video outlines more information on what our physicians are doing to find new options for MPN patients experiencing sexual dysfunction.
Treatment Overview
Sexual dysfunction in men can be treated with a vasodilator such as Sildenafil (Viagra, Revatio) or Tadalafil (Cialis, Adcirca) or a hormonal supplement such as testosterone (Androgel). Sexual dysfunction in premenopausal women can be treated with filbanserin (Addyi), various estrogen therapies, and/or testosterone (Androgel).
Related Faculty
Ellen K. Ritchie, M.D.
Dr. Ritchie is an Associate Professor of Medicine at Weill Cornell Medical College. She is a graduate of Barnard College and received her M.D. from Columbia University College of Physicians and Surgeons, where she was inducted into the Alpha Omega Alpha Honor Society. She completed her medical residency and fellowship in Hematology and Medical Oncology at New York Presbyterian Hospital, Columbia campus, and has been on the Cornell faculty since that time. Dr. Ritchie's clinical and clinical research interests have been in the myeloproliferative and myelodysplatic disorders and leukemia, with special expertise in the care of older patients with hematologic malignancies. She has been the principal investigator or co-investigator of many major clinical trials related to the MPNs and the management of older patients with these blood disorders.  
Clinical Profile (POPS)