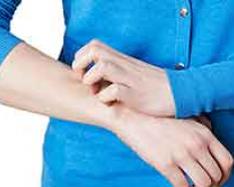 Pruritus is the medical term for skin itching. Some patients with MPNs have skin itching that can be intermittent and predictable, intermittent and unpredictable, or even constant. The most common predictable trigger for itching is exposure to warm or hot water during showering or bathing. Some drugs used in the treatment of CML (e.g., imatinib, nilotinib, dasatinib) can cause skin itching, particularly when therapy is first started or changed. The medical cause for the itching in patients with MPNs has not been fully identified.
Treatment Overview
There is no single, best treatment for pruritus and therapy typically needs to be individualized. Simple measures like using cooler water when bathing are often effective and sufficient for many patients. Itching due to CML drugs usually resolves on its own, but care by experienced dermatologists and treatment with topical lotions can provide significant relief. Patients with severe or unremitting itching can benefit from exposure to ultraviolet light (natural or under the direction of dermatologist). Ruxolitinib, a drug approved for use in polycythemia vera and myelofibrosis, has been found to be very effective in relieving pruritus for many patients. While sometimes patients take antihistamine medications such as Benadryl, Claritin, and Allegra, but these infrequently provide relief.
Related Faculty
Joanna L. Harp, M.D.
Dr. Harp is Assistant Professor of Dermatology at Weill Cornell Medical College and is the Director of the dermatology consultation service at New York Presbyterian Hospital. She is a summa cum laude graduate of Vanderbilt University, received her M.D. with high honors from Baylor College of Medicine, and completed internal medicine and dermatology training at the University of California, San Francisco (UCSF), where she also served as Chief Resident in Dermatology. 
Dr. Harp's clinical practice is in general dermatology and dermatologic surgery, with a special interest in complex medical dermatology and skin disorders related to internal disease. Her clinical research interests include autoimmune dermatology, cutaneous vasculitis and cutaneous drug reactions. 
Clinical Profile (POPS)

Joseph L. Jorizzo, M.D.
Dr. Joseph Jorizzo cares for adult and pediatric patients with complex medical dermatology problems. His research and publications focus on dermatologic manifestations of internal medical diseases, such as the skin itching (pruritus) experienced by many patients with myeloproliferative neoplasms. Dr. Jorizzo also cares for patients with common dermatologic problems of skin, hair, nails, and mucous membranes.
Dr. Jorizzo is Professor of Clinical Dermatology at Weill Cornell Medicine. A graduate of Boston University and Boston University School of Medicine, he completed his residency and Chief Residency in Dermatology at the University of North Carolina (UNC), served as a fellow at St. John's Hospital Dermatology Institute in London, and became the Founding Chair of the Dermatology Department at Wake Forest University School of Medicine in North Carolina prior to joining the full-time faculty at Weill Cornell Medicine. Dr. Jorizzo remains a Professor, Former and Founding Chair of the Dermatology Department at Wake Forest University. Dr. Jorizzo has held leadership positions in major dermatologic organizations and professional societies, and has served on the editorial boards of several dermatologic journals.
Clinical Profile (POPS)